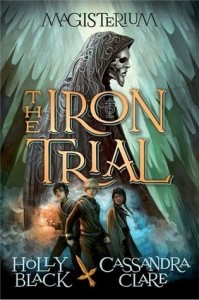 The Iron Trial
by
Cassandra Clare
,
Holly Black
Published by
Scholastic Inc.
on September 9th 2014
Genres:
Fantasy & Magic
,
Friendship
Pages:
299
Goodreads

Most kids would do anything to pass the Iron Trial. Not Callum Hunt. He wants to fail. All his life, Call has been warned by his father to stay away from magic. If he succeeds at the Iron Trial and is admitted into the Magisterium, he is sure it can only mean bad things for him. So he tries his best to do his worst - and fails at failing. Now the Magisterium awaits him. It's a place that's both sensational and sinister, with dark ties to his past and a twisty path to his future. The Iron Trial is just the beginning, for the biggest test is still to come . . . From the remarkable imaginations of bestselling authors Holly Black and Cassandra Clare comes a heart-stopping, mind-blowing, pulse-pounding plunge into the magical unknown.
I don't typically read much middle grade, but I'm a huge fan of Cassandra Clare and the premise of The Iron Trial totally intrigued me. A book about a boy who purposefully tries to FAIL the entrance exam into magic school? I'm sold. I started reading, and the very first chapter completely hooked me. Not only does it introduce the story world and the major conflict quite spectacularly, but it's also an ingenious bit of foreshadowing. So major props to Clare and Black.
Just as we're told in the summary, Callum Hunt fails at failing, and he's admitted to the Magisterium. His dad didn't want him to go. Call doesn't want to go. But as the story progresses, Call comes to appreciate his training and also his new friends. I have such a soft spot for Call. He's sort of bitter and sarcastic, but he's not mean. He's actually quite funny. And he has a crippled leg, which definitely presents unique challenges for Call and sets him apart from other stereotypical MG and YA characters I've read.
I love the strong friendship between the three apprentices, Call, Aaron, and Tamara. The plot is interesting and engaging and hints at exciting revelations in the following books of the series. The plot twist at the end of Book 1 (which I sort of guessed!) is absolutely FANTASTIC. Prior to reading the book, I read a review which pointed out similarities to Harry Potter. And so when I read The Iron Trial, these similarities really jumped out at me. That said, it didn't affect my reading experience or my opinion of the book much at all.
BOOK 2!
Got my hands on an ARC of The Copper Gauntlet, which was very exciting because I was still reading Iron Trial at the time and couldn't believe my luck. Not sure how much I can say, as I should probably wait until closer to it's release date, but it has all the features of Book 1 I loved – magic, adventure, tension, intrigue. Call is hiding something big from his friends and so he's facing questions of trust and loyalty. Another enjoyable read!
HAVE YOU READ THIS BOOK? SHARE YOUR THOUGHTS!