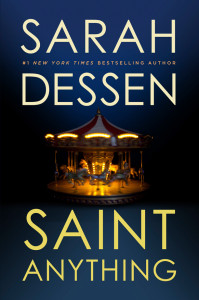 Saint Anything
by
Sarah Dessen
Published by
Penguin
on May 5th 2015
Genres:
Friendship
,
Love & Romance
,
Young Adult
Pages:
432
Goodreads

Sydney has always felt invisible. She's grown accustomed to her brother, Peyton, being the focus of the family's attention and, lately, concern. Peyton is handsome and charismatic, but seems bent on self-destruction. Now, after a drunk-driving accident that crippled a boy, Peyton's serving some serious jail time, and Sydney is on her own, questioning her place in the family and the world. Then she meets the Chatham family. Drawn into their warm, chaotic circle, Sydney experiences unquestioning acceptance for the first time. There's effervescent Layla, who constantly falls for the wrong guy, Rosie, who's had her own fall from grace, and Mrs. Chatham, who even though ailing is the heart of the family. But it's with older brother Mac — quiet, watchful, and protective — that Sydney finally feels seen, really seen, at last. Saint Anything is Sarah Dessen's deepest and most psychologically probing novel yet, telling an engrossing story of a girl discovering friendship, love, and herself.
Sarah Dessen is one of my favorite authors. She has this incredible talent for writing stories that never fail to move me. I really enjoyed Saint Anything, as it featured all of Dessen's trademark elements ("Hate Spinnerbait!"). 🙂 Maybe not my absolute #1 of Dessen's books, but definitely a great read.
I felt like there was a lot going on in this book, and maybe that's why it didn't quite capture me the way several of Dessen's other books have (Just Listen, for example). Sydney is your average teenage girl, except her brother is in jail and she seems to be shouldering the guilt of what he's done. Her parents are so preoccupied with her brother's situation that Sydney feels invisible.
So there's the whole brother-in-jail thing overshadowing everything in Sydney's life, but she's also dealing with the unwanted attentions of a much older (and creepy!) boy, a new school, and new friends. She doesn't feel invisible around the Chatham family. And for the first time, she feels somewhat understood. The Chatham family is by no means perfect, but they're super close and they truly care for each other. They teach Sydney about what it means to face her challenges and move on. Layla Chatham is hilarious. She brightens this book with all her quirks, including her OCD with french fries. And, of course, there's Mac, who's incredibly sweet and knows how to treat a girl.
I thought the romance really took a backseat in this book, but that was okay with me. A romantic relationship was not going to fix what Sydney was going through. Dessen always deals with very real issues in an incredibly insightful and sensitive way, and I really appreciate that.
Again, extremely enjoyable read. Glad to have this on my bookshelf.