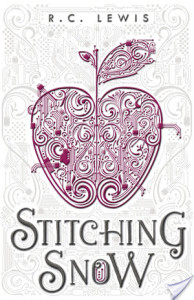 Stitching Snow
by
R. C. Lewis
Published by
Disney Electronic Content
on October 14th 2014
Genres:
Fantasy & Magic
,
Love & Romance
,
Young Adult
Pages:
336
Format:
Hardcover
Goodreads

Princess Snow is missing.

Her home planet is filled with violence and corruption at the hands of King Matthias and his wife as they attempt to punish her captors. The king will stop at nothing to get his beloved daughter back—but that's assuming she wants to return at all.

Essie has grown used to being cold. Temperatures on the planet Thanda are always sub-zero, and she fills her days with coding and repairs for the seven loyal drones that run the local mines.

When a mysterious young man named Dane crash-lands near her home, Essie agrees to help the pilot repair his ship. But soon she realizes that Dane's arrival was far from accidental, and she's pulled into the heart of a war she's risked everything to avoid. With the galaxy's future—and her own—in jeopardy, Essie must choose who to trust in a fiery fight for survival.
So I know we shouldn't judge books by their covers, but I really think the awesome cover of this book is what grabbed me. And, of course, that it's a Snow White retelling, because I'm a huge fan of retellings.
I enjoyed many aspects of this book – the futuristic story world, feisty protagonist (princess in hiding!), reluctant romance, similarities to the original fairy tale. The story takes place in space, and Essie is the only girl on the mining planet Thanda because she's a mechanic. Her seven dwarfs are seven drones, the mining drones she programmed herself and who keep her company. The reader doesn't know much in the beginning about why Essie is in hiding, but you know it has to be a good reason because Thanda isn't particularly safe or comfortable.
When Dane crashes onto her planet, I thought the plot would be pretty predictable from then on out. But I give author R.C. Lewis major points for adding interesting twists that made the plot quite the opposite! Both Essie and Dane have interesting backstories. The romance is slow and sweet, and it's rewarding in the end.
Essie's lingo was a bit overwhelming – she has this entire vocabulary that takes a while to get used to. Believe me when I say I appreciate good world building, but this was a bit distracting.
I really liked this retelling of the classic Snow White. I think it accomplished what all good retellings should: capture the overall tone/essence of the fairy tale, while giving the original a unique spin.
HAVE YOU READ THIS BOOK? SHARE YOUR THOUGHTS!