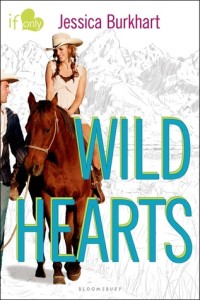 Wild Hearts
by
Jessica Burkhart
Published by
Bloomsbury Publishing USA
on May 5th 2015
Genres:
Equestrian
,
Love & Romance
,
Young Adult
Pages:
368
Format:
eARC
Goodreads

Brie Carter's father's land development business has taken her family all over the world, but as soon as they arrive at their new home in Lost Spring, Wyoming, the town turns out to protest. They don't want a new hotel if the resident mustang population will be displaced or hurt as part of the deal. Then Brie meets Logan, a gorgeous local who has a special connection to the mustangs, and she is immediately drawn to him . . . and the horses. However, with Logan's father leading the protests and Brie's father refusing to budge, it's clear that their parents are heading towards an all-out war. Can Brie and Logan find a way to save the mustangs and be together? Or is their love doomed from the start? This new title in the If Only line is the perfect summer read and proves that love flourishes in the wildest places!
This e-galley was provided by Netgalley and Bloomsbury in exchange for an honest review.
I really liked the premise of this book – it had a sort of Romeo and Juliet vibe (feuding fathers!) as well as the horses thing, which sounded promising. But the book didn't meet expectations, and that's always disappointing.
Brie and Logan fall for each other pretty quickly. I definitely would have preferred a "slow burn" rather than insta-love. And their relationship is so perfect. I originally thought this was because author Jessica Burkhart was leading up to some dramatic fallout between the two, or some sort of climactic moment involving their fathers' disagreement, but no such luck. As a result, it didn't capture my attention like I hoped it would.
Also, I felt like the horses weren't a huge part of the plot until the second half of the book. And by then, much of the conflict had been resolved.
I did appreciate Burkhart's exploration of Brie's character, especially Brie's evolving perspective on moving so often for her father's job. Brie also searches for her own "thing," and it was interesting to see her rally behind a project.
In the vain of the other "If Only" books, Wild Hearts is light and fun – unfortunately, it fell a bit flat for me.